fitness
The clothes you wear can affect your workout
Whether you're working out from home or working out at the gym, what you're wearing can play a big part in how you feel for that workout and how motivated you may be to attack it.
You'll be surprised at how the clothes you're wearing for your workout can play a big part in both the motivation to do the workout and the results you get from it. Finding the right workout clothes to attack whatever workout you have planned can come down to a number of factors and whether it's working out from home or hitting the gym, we know how important it is to both feel good and look good at the same time!
BRIGHT COLOURS HELP YOUR MOOD
Psychologically, wearing bright colours can help to boost your mood. Colours in general though can also have an effect on your energy, productivity, and concentration and thanks to a number of studies, looking at and wearing certain colours can impact your workout too. Red is perfect for high-intensity workouts like CrossFit and F45. Red is a powerful colour and in turn can help to increase your heart rate. Blue can help to boost productivity and concentration levels. Green can provide a "restorative experience" while neutrals can help you chill so great for calmer or recovery style sessions like yoga or walking.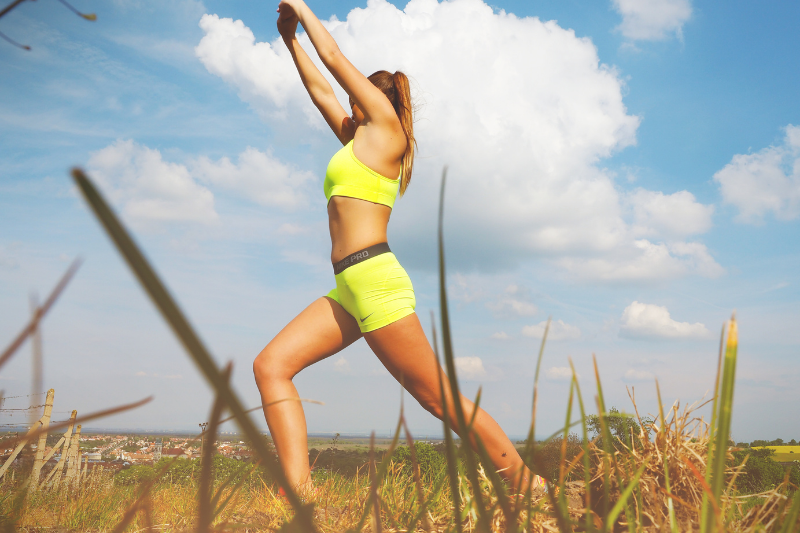 LOCATION AND WEATHER
It seems obvious but both the location of your workout and the weather plays a big part in what you should wear too. What you wear for your home workout will likely differ from what you'll wear elsewhere. Choose the right workout clothes to suit when and where you're working out. If it's hot and sunny outside (or indoors where airflow isn't great), you'll want to wear something that breathes and helps to wick away the sweat. If it's cold then look for clothes that break the wind chill. Also consider wearing something to keep your head warm too like a beanie that can be easily removed and held onto for the remainder of your workout, if you do find yourself getting a little warm during it.
CLOTHES THAT HELP YOU MOVE
Wearing workout clothes that are tight or restrictive aren't going to help you move during the workout. You want to be able to perform movements like a Downward Dog, a box jump or a squat fairly easily without it getting too tight or leave you fearing it may split in the crotch area. Wearing clothes that are flexible and comfortable will leave you able to focus on the task at hand and perform each of the movements better and properly. Try to avoid clothes that might be too loose or baggy like sweatpants as they could get in the way or get stuck in equipment. Look for trackpants with a tapered leg. They're a better option if you're wanting to wear long pants, especially for men, and leggings are always a popular choice for women.
CHECK WHAT THEY'RE MADE OF
The best material for working out include bamboo, cotton, nylon, and polyester. They're not the only ones but they tend to be better when it comes to breathability and feeling comfortable. Think about what you do wear and what feels most comfortable. Find the fabric that works best for you and your body. Bamboo is light, breathable, moisture wicking and anti-static. Cotton absorbs sweat and odours so less likely to leave you smelly after your workout like polyester but as it absorbs sweat, you may feel a little drenched (look for cotton-blends instead). Nylon is both stretchy and quick-drying making it a great choice. The fabric also allows airflow to get in so it keeps you cool as well as the benefit of wicking sweat from your skin to the fabric's surface, where it can evaporate. Polyester is durable, wrinkle-resistant, lightweight, and non-absorbent, which means that moisture from your skin evaporates instead of being drawn into the material. Another one is Spandex which is super stretchy so it also wicks moisture, dries quickly, and offers an unrestricted range of motion. You'll often find some clothing items have a blend that includes spandex.
Wearing the right clothes for your workout can help you feel more confident and comfortable, therefore the workout may be more enjoyable (ha!) and you'll be able to concentrate on smashing that PB and burning off the burger you had yesterday or the night you had before.