what's new
Healtheries Supplement Support Range
Daily support for digestion, stress management, immunity and energy
The new Healtheries Support range aims to help with digestion, stress management, immunity and energy and form part of your daily routine to keep you in tip top shape.
Energy Support With B Vitamins, Guarana & Taurine
Life is busy! Between work, family, fun… it's hard to find the energy to manage it all! No wonder so many of us hit the afternoon energy slump, or hit a wall in the evening after you've finally got dinner organised and all the other things the evenings bring. Healtheries Energy Support with B Vitamins, Guarana & Taurine is specially formulated for energy production and to help support healthy energy levels and vitality.
Digestive Support With Probiotics & Livaux® Kiwifruit Powder
Healtheries Digestive Support is specially formulated to support digestive and immune health. This formula combines the probiotic Bascillus Coagulans, with the goodness of Livaux®, New Zealand grown gold kiwifruit, proven to help beneficial bacteria flourish and restore gut microbiome balance.
Taking a daily probiotic combined with the benefits of Livaux® kiwifruit powder can support you in rebalancing your digestive system by increasing your levels of beneficial bacteria and helping them flourish. This can keep unfriendly bacteria from gaining a foothold in your body, support your digestion, immune system and even support with absorbing some important nutrients. No refrigeration required!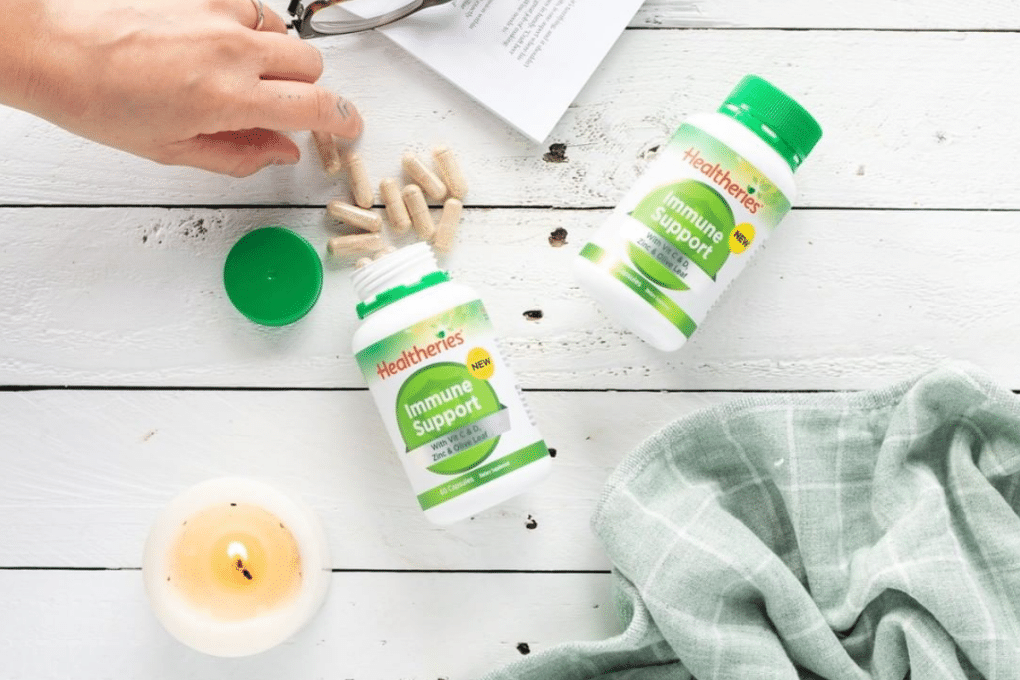 Immune Support With Vit C & D, Zinc & Olive Leaf
When it comes to winter, your immune system can be affected and that's when days off work or sick kids start to affect your routine. A strong immune system can help protect you from the frustration of coming down with winter ailments. Immune Support with Vit C & D, Zinc & Olive Leaf provides a powerful combination of immune supporting ingredients - ideal if you can't afford to get sick over winter. Healtheries Immune Support contains odourless garlic to give your immune system a helping hand without the overpowering taste.
Stress Support With B Vitamins & Passion flower
With all the things life throws at us between work life and family, finding balance is something we all strive for. But there are times we need a little extra support. Healtheries Stress Support with B Vitamins and Passion flower is specially formulated to support a healthy stress and nervous system response. This formula also contains Lemon balm. Both Passion flower and Lemon balm are herbs that are often used in Traditional Western Herbal formulas to help relax and calm the mind and body.
Find out more at healtheries.co.nz