nutrition
Why Drinking Matcha will only make You feel better
what exactly are the benefits to drinking matcha and why will drinking matcha only improve your life?
Matcha is special - it has been known by the Japanese people for centuries and now is widely discovered among other cultures. It mostly owes that to its equally unique method of preparation which involves casting more shadow on the tea plants which intensifies their photosynthesis. Consequently, the leaves contain much more remedial antioxidants in comparison to different kinds of tea. Moreover, in contrast to the other teas, while drinking matcha, we consume the whole leaves which only maximises the benefits. Speaking of which, what exactly are these and why will drinking matcha improve your life?
MATCHA RELAXES YOU AND CLEARS YOUR MIND
The calming properties of matcha have been used by the buddhist monks for over 800 years ago to help them go through hours of consistent meditation. Now, scientists have extracted the substance responsible for this feature. L-theanine, an amino acid that is extraordinarily abundant in matcha, stimulates the production of the alpha waves in the brain that positively influence our consciousness, focus and mood as well as promote the feeling of deep relaxation. It only makes it easier for you to get through the day with a sharper mind, state of calmness and better stress-regulating skills.
MATCHA ENERGISES YOU AND INCREASES STAMINA
The Japanese warriors would drink matcha before a quest. Even though one cup of matcha contains about 50% less caffeine than a cup of coffee, thanks to the high concentrations of L-theanine, the stimulatory effect is maintained for much longer. Because of this, you will feel energised and stronger throughout most of the day. In contrast, the soaring energising effect that you get after drinking coffee will plummet quickly within an hour or two which will force you to reach for more caffeine at once. These invigorating properties are only augmented by the fact that matcha's catechins promote one's immune function and effectively guard off infections.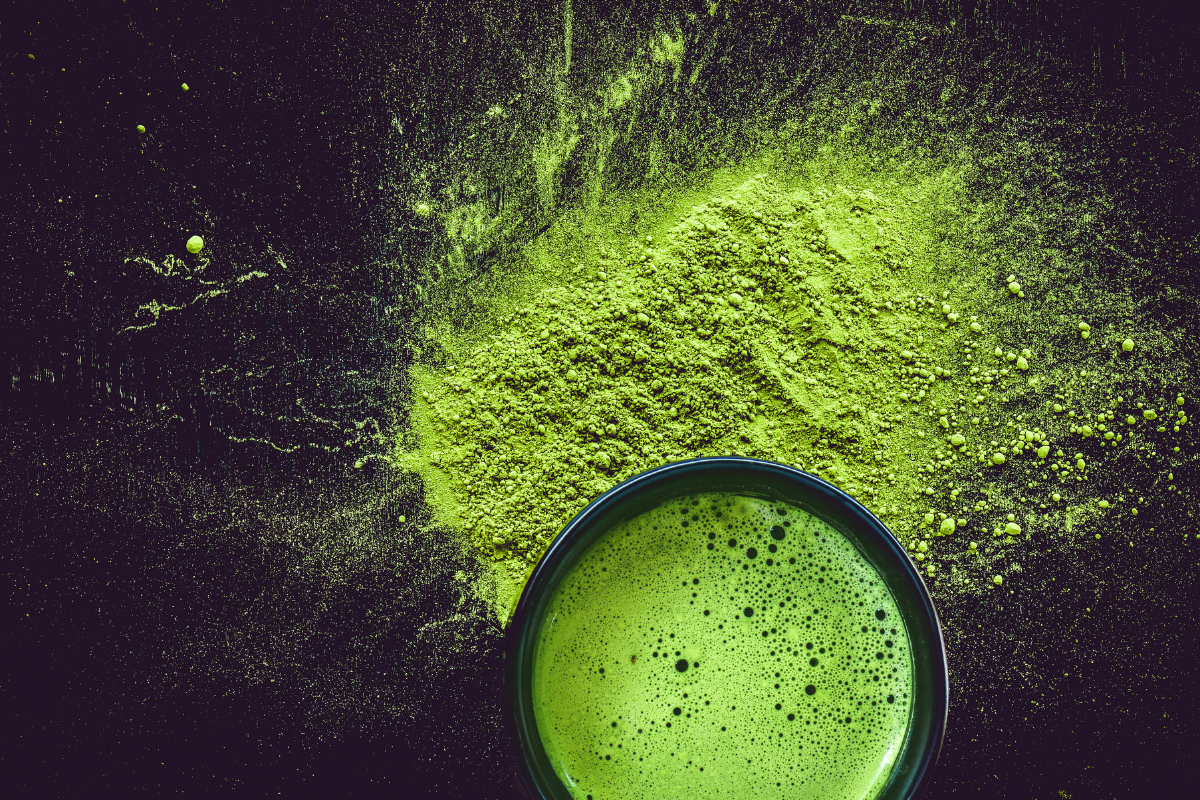 MATCHA IMPROVES YOUR LIPID PROFILE AND HELPS YOU BURN FAT
Matcha increases one's rate of metabolism like no other and therefore burns fat in a completely natural and healthy way. Besides, contrarily to other fat-burners, it does not cause any undesired side effects like increased heart rate and blood pressure. It has been proven to actually do the opposite - regular matcha drinkers have their heart rate within a healthy range and lower blood pressure that is synchronised with the heartbeat. At this point, it can be said that matcha contributes to lowering one's cardiovascular risk. In addition, the tea positively influences one's lipid profile - it has been shown in numerous studies to lower the level of unfavourable LDL cholesterol and increase the level of the beneficial HDL cholesterol.
MATCHA IS ONE OF THE STRONGEST ANTIOXIDANTS AND LOWERS INFLAMMATION
Above, it has been mentioned that matcha contains a plethora of health-giving substances, among which the antioxidative catechins play an irreplaceable role. One of them, called epigallocatechin gallate (EGCG for short), has a particularly strong action and has been shown to be 100 times more potent antioxidant than vitamin C - an antioxidant that is already considered as exceptionally powerful. Matcha has been proven to have one of the highest ever ORAC (Oxygen Radical Absorbance Capacity) scores - 1573, that is nearly 7 times more than the ones of goji berries and dark chocolate respectively. One cup of matcha contains as many antioxidants as there are in 10 cups of regular green tea. It speaks for itself.
The antioxidants are known to successfully lower the cells' oxidative stress and subsequently mitigate inflammation in the whole body. This effect results in a lower risk of acquiring an inflammatory disease like atherosclerosis, hypertension and even cancer. Apart from that, the inflammation-reducing effect only amplifies the calming and relaxing benefits of matcha - with less inflammation, we simply feel better.
MATCHA JUST MAKES YOU LOOK BETTER
Another natural advantage of the antioxidants, that needless to say, matcha teems with, is making us look younger and healthier. That is because the free radical scavengers prevent the structure of skin-building macromolecules like proteins (including collagen and elastin), lipids and nucleic acids from degradation. Not only is the skin firmer, smoother and softer but it is also visibly more moisturised as the lipids of the skin's protective barrier are not damaged. The skin regains its healthy natural glow. Similar things happen to the hair that gets stronger and shinier. That only proves that matcha will make you feel better both from the inside and from the outside!