news
BePure Puts The Plus in Collagen+
BePure's new Collagen+ provides 10g of collagen in each serve but it's also packed with a specific blend of powerful antioxidants to benefit your overall health and wellbeing.
Collagen is the new hot trend on the market today and there's an abundance of choices on the market for you to consider but not all collagen products are created equal. BePure's new Collagen+ is more than just collagen and here we find out why.
What is Collagen?
Collagen is a strong, springy, fibrous substance that is woven throughout the tissue all over your body. It makes up about a third of the protein in our body and is the primary structural component of connective tissue like skin. From age 25, our collagen production decreases approximately 1% per year, increasing in our 40s and 50s.
What Does Each Type of Collagen Do
There's 28 types of collagen in our bodies with 3 key types making up 90% of the collagen in our bodies - Type 1, Type 2 and Type 3. They all play a key role but you get the different types from different types of collagen.
Bovine Collagen
Comes from the bone, skin, cartilage and tendons and is largely comprised of types 1 and 3. Valuable for building muscle and internal collagen production.
Chicken Collagen
Comes from the bone, skin and gristle and is comprised of type 2. It is best known for its support in building cartilage and joint health.
Fish Collagen (or Marine Collagen)
Comes from the bones and skin of fish. It is very easily absorbed by the body and is comprised of type 1—the single most common form of collagen in your body. Because of this it has widespread benefits and can improve the structural integrity of everything from your joints and skin to your vital organs, blood vessels, gastrointestinal tract and bones.
Egg Collagen
Found in the membrane inside the shells. It's mostly type 1 but has traces of types 3, 4 and 5. It benefits wound healing, muscle building, joint pain and stiffness. Usually in supplement form due to location in the egg shell.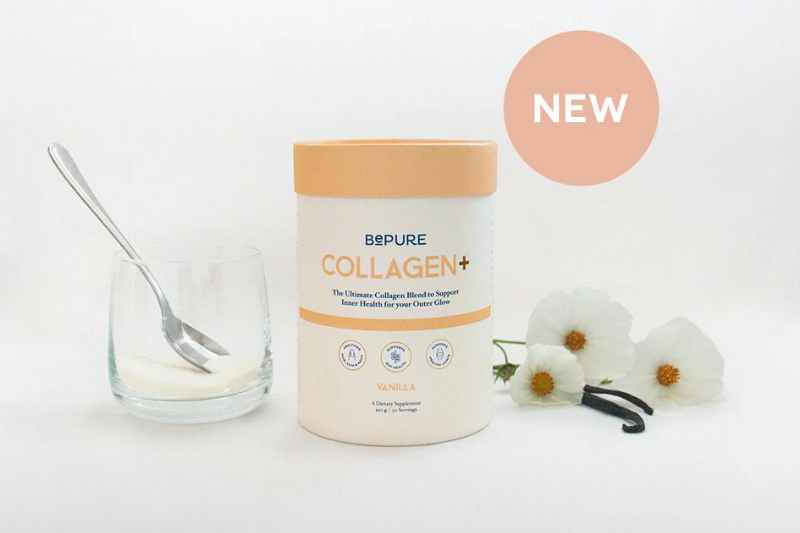 What's in BePure's Collagen+
Marine collagen is the most bio-available form of collagen in the body which means widespread benefits and a levelling up in the health of your skin, hair, nails, joints, gut and digestive system. Scientifically formulated by leading clinical nutritionist Ben Warren, BePure Collagen+ contains 10g per serve of premium-grade, sustainably-sourced marine collagen. With an advanced low molecular weight of just 2,000 Daltons BePure Collagen+ is the most readily absorbed collagen on the New Zealand market.
They don't stop there though. They also packed it full of a specific blend of powerful antioxidants including vitamin E, vitamin C, zinc and polypodium leucomotos - their secret ingredient is an antioxidant that helps reduce inflammation that accelerates ageing—it also acts like an internal sunscreen, helping protect against UV radiation damage.
How can you use BePure Collagen+
While collagen itself can be heated, the powerful combination of antioxidants that make BePure Collagen+ so incredible, get degraded by heat. Try adding a serving of BePure Collagen+ to smoothies, raw baking and drinks no warmer than room temperature—or you can mix it directly into a glass of water or milk with any of your daily meals.
What does BePure's Collagen+ Do
BePure Collagen+ supports:
Strong hair
Skin and nails
Eczema
Rosacea
Psoriasis
Dry flaky skin
Signs of ageing
Gut and digestion
Joints and bones
Plus

more!
To find out more about BePure's new Collagen+ and to purchase, check out the BePure website HERE